Client

Sogrape

Role

Modern Workplace

Year

2019
Sogrape is a global brand whose large family felt disconnected. Thankfully, the right tools have the power to connect people – even if they speak different languages and live on opposite sides of the world.
Founded in 1942 by Fernando Van Zeller Guedes, Sogrape is a group of companies and brands which aims to provide Original Legacy Wines for all moments of life.
From the Douro region, Sogrape reached the entire world and currently produces wine in Portugal (Sogrape Vinhos Portugal), Spain (Bodegas LAN), Argentina (Finca Flichman), Chile (Viña Los Boldos), and New Zealand (Framingham). With distribution companies in Europe, America, Africa, and Asia, Sogrape delivers its wines to more than 120 countries, with internationally relevant brands.
Sogrape's originality and legacy result from the dedication of a large family of people who, led by Fernando da Cunha Guedes, the current CEO, strive for excellence in all areas to make it a benchmark in the world of wine. There are over a thousand employees who, united by family tradition, diversity, rigor and reliability, courage and desire to innovate, honor friendships and look at wine as their way of bringing happiness to life.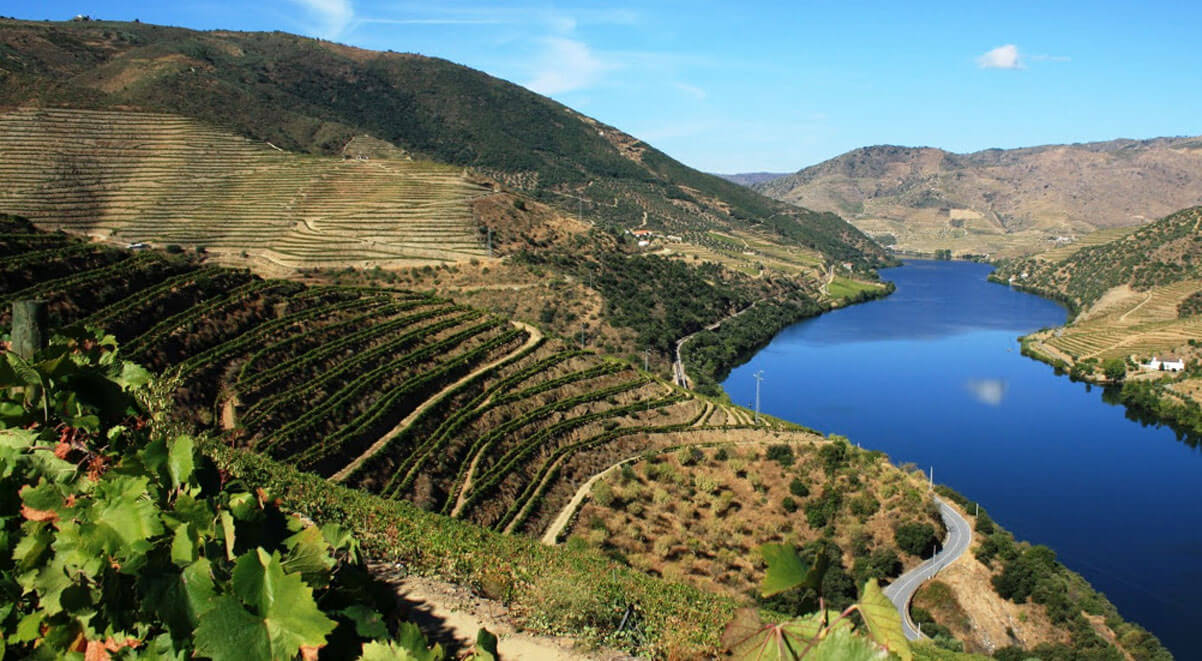 Sogrape is present in the entirety of the value chain, and therefore its operation starts in the vineyard and ends on the shelf. It reaches all four corners of the world and comes with all its benefits – such as the ability to enjoy an Argentinian Malbec in a plaza in Madrid – and woes – like working on three languages and across multiple time zones. For years, Sogrape wanted a single platform to connect its universe of over 1,000 employees and change the way people work and communicate between themselves and the company. Having developed their Portuguese operation's intranet portal back in 2007, Sogrape selected DevScope from among a handful of companies to work on their global intranet portal.
"We knew we wanted to connect everybody and change the way we work, but we didn't know how, and DevScope offered the ideal solution."

– Joana Pais, Corporate Communication Manager, Sogrape
Sogrape's old intranet portal was showing its age and some of the pains that come with it: not up to the most recent technological and interface standards and barely used by anyone. Worst of all, it was exclusive to the company's Portuguese operation, a stark contrast to its global reach, glocal position – the practice of conducting business according to both local and global considerations – and its "Feel like a family, perform like a team" purpose.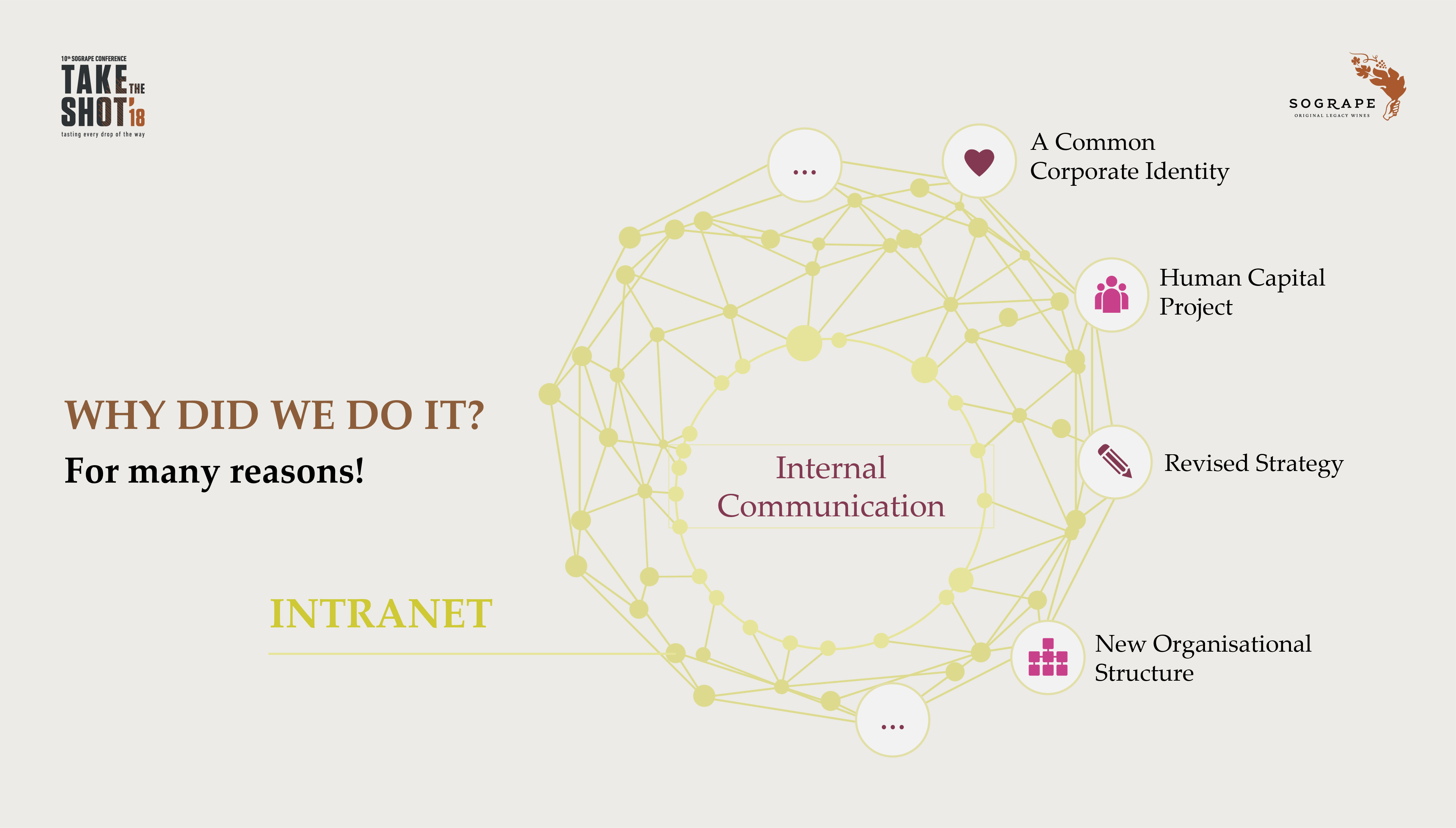 Sogrape wanted to revert this situation and have a user-oriented portal, but when you have over 1,000 employees with multiple professional profiles spread around the globe, needs and expectations are sure to vary considerably. On top of that, Sogrape wanted this project to mark a turning point in the company and requested for the new portal to be amazing and delivered in six months, so time was a factor. Thankfully, this came on the heels of a previous digital identity project developed by another Microsft Partner, where Sogrape joined all its users under a single group tenant. With a solid base to build on, we now had to come up with the best way to connect them.
"Sogrape only had one requirement when they contacted us: we want an Intranet that wins prizes. I immediately thought to myself, we want to do this. Challenge accepted!"

– Ricardo Calejo, Portals & Collaboration Manager, DevScope
With all these concerns in mind, Sogrape adopted Stanford University's Design Thinking approach, which is composed of five stages: Empathize, Define, Ideate, Prototype & Test.
From the get-go, Sogrape envisioned the new portal as a living project, one that would change over time according to its users' needs. To grasp them, DevScope hired digital strategic consultancy firm Mind Forward and Knowman to conduct a series of 19 interviews and write a report on their findings. Interviewees were Sogrape employees from all over the world fitting well-defined user personas to assure there was a large enough pool of different behaviors and motivations. An additional group of 29 project ambassadors –a few selected employees undertaking the mission of spreading the new intranet's culture with their colleagues – answered 19 questions on Microsoft Forms as well. The collected material set the following stage in the Design Thinking method: Define.
"The new intranet should celebrate difference as much as bring everyone together."

– Joana Pais, Corporate Communication Manager, Sogrape
With the goal of naming the portal and identifying the features it should have to address the most common needs, Fast Forward and Knowman organized a couple of workshops. The plans for the rollout of WINet – a portmanteau of wine and intranet – were also born from these sessions, along with a list of concerns the new portal would have to address, namely:
The lack of resources and time to feed it new content on a regular basis.
Several employees lack a computer or other connected device.
Several employees don't know what an intranet is.
The lack of participation by upper management.
A few employees in some business units didn't feel well represented.
"We want WINet to work reason but also emotion, business but also culture. We want to make sure the user experience is engaging and, more than a useful platform, we want people to look at WINet as part of their daily life at Sogrape."

– Joana Pais, Corporate Communication Manager, Sogrape
Keeping content relevant and updated is a challenge common to most portals we deploy. In order to keep WINet alive, Sogrape's content had to cater to several separate yet related areas, such as production, commerce, distribution, innovation, wine education, or wine tourism. When that content's audience is over 1,000 people speaking three different languages and working on every continent on the planet, the challenge gets considerably difficult.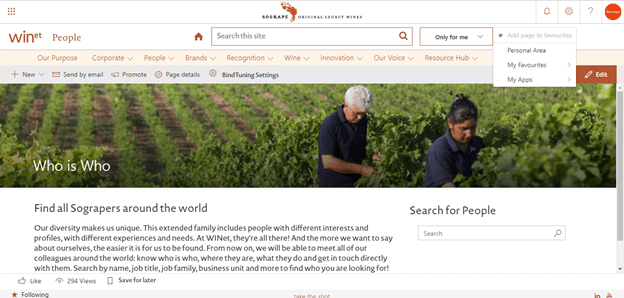 DevScope's BI team is used to start projects by tackling the financial area, so over time, they've managed to streamline the deployment of Power BI dashboards and reports geared towards it and created a ready-to-deploy financial solution. This translates to faster times and lower costs for the client while leaving enough room for customization. Despite coming with a set of pre-made reports, users can easily build their own reports and analytics for all items in their Power BI.
"We've increasingly come across a need for financial reports among our clients so we started accumulating some knowledge on the subject. Because the basis of these reports doesn't change that much between companies, we managed to set up a way to give clients an agile solution along with the tools to perform a rich in-depth analysis. We're very pleased that Medvida was able to quickly extract some value from this solution."

– Joana Barbosa, BI Developer, DevScope
Speaking to an audience of a thousand
To make sure Sogrape would be able to produce content regularly and reach its collaborators regardless of language or country, DevScope's Portals & Collaboration team developed a solution that combines a content classification system (using SharePoint Online's Term Store feature) with a customized user content experience featuring multi-language support set in three pillars:
what Sogrape needs to tell its employees – mandatory information on the homepage.
what employees are interested in – their personal area.
what employees might want to know but isn't in the portal's homepage nor their personal area – search function.
These features and customized user experience are only made possible by combining a structured and planned information classification system with custom SharePoint components, namely its search engine.
Experience taught us that information customization is vital to keep people using corporate portals so, save for Sogrape's mandatory info, we gave everyone the liberty to select the themes they're most interested in. In their personal area, users can find:
Fully customizable links to company apps, which include a canteen, a wine store, a service desk, and a vehicle reservation.
A favorites link list that can be accessed and managed across the whole intranet. Pages are added to this list with a single click.
The ability to pick the topics which will be presented in their information feed across the entire intranet. An employee in Chile can choose to read articles about his market and avoid information overload by keeping all remaining wine production regions off their feed.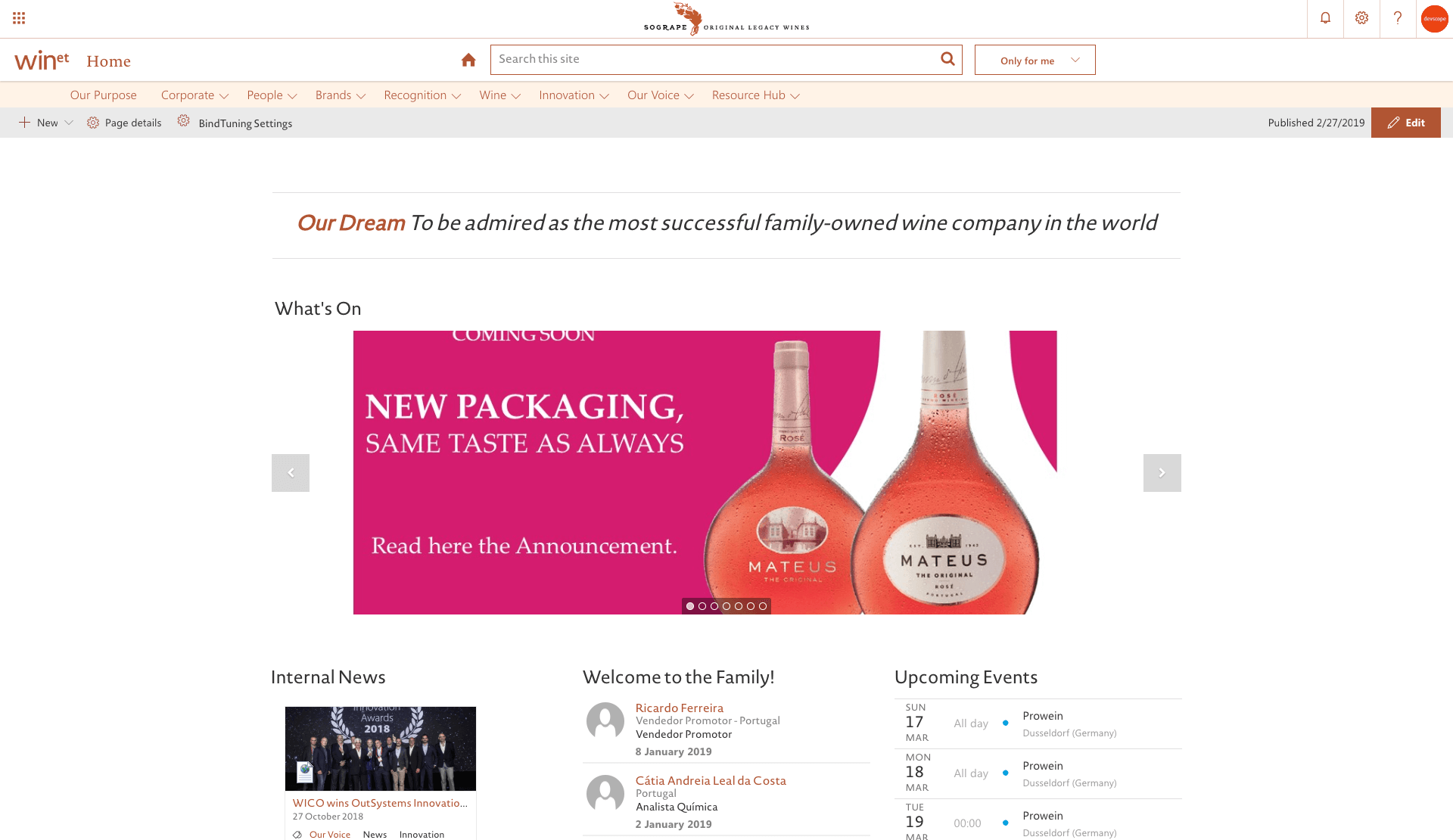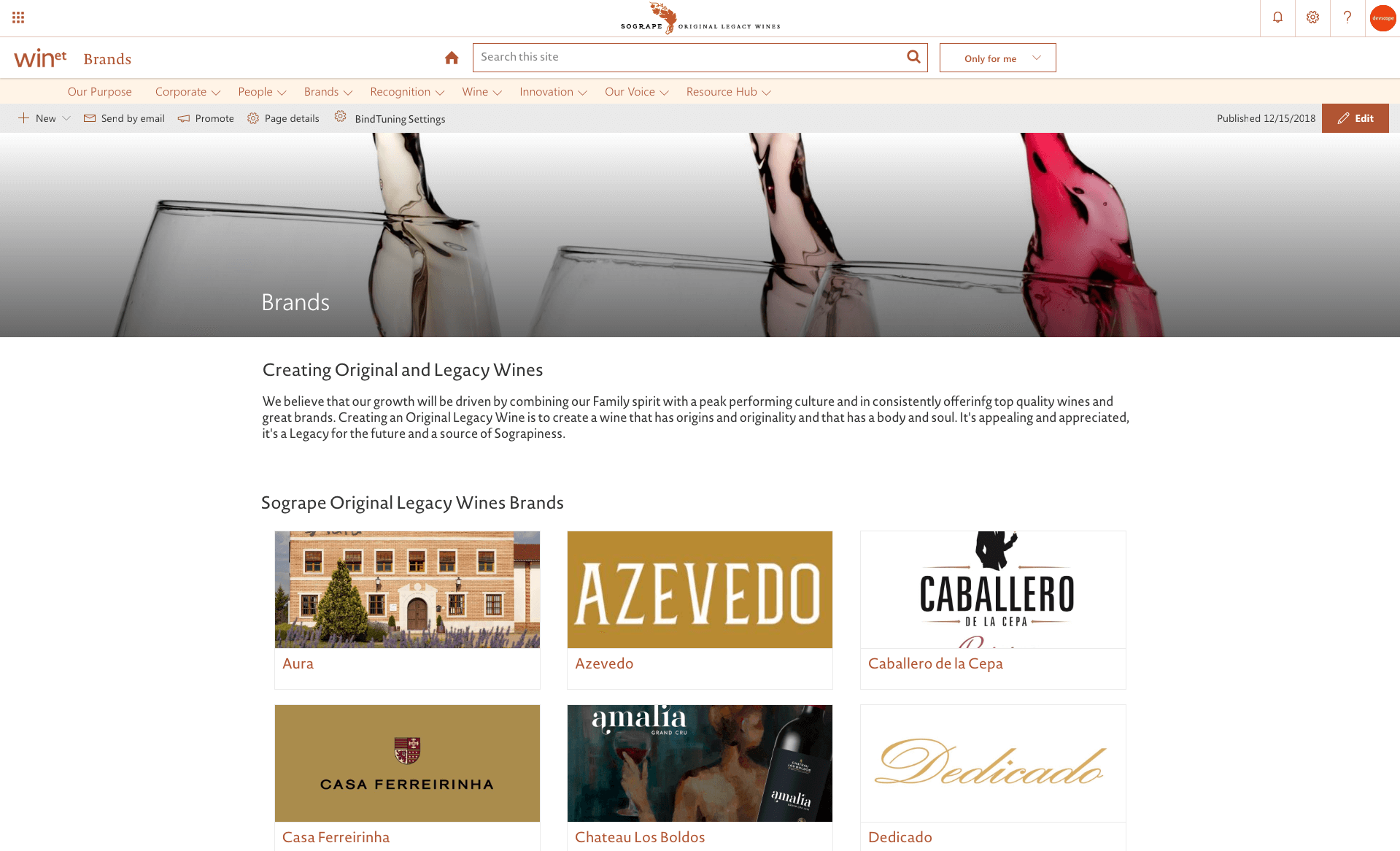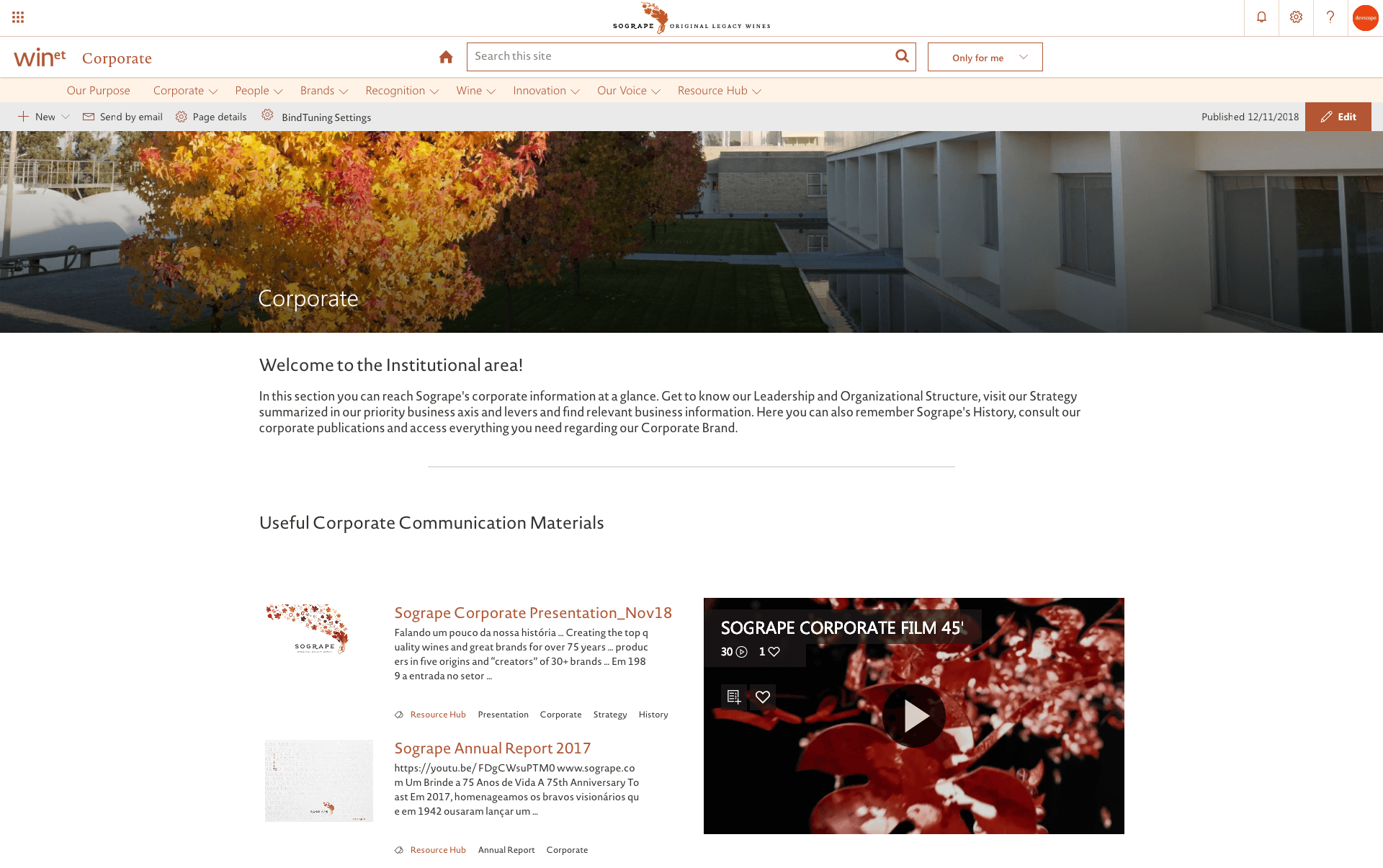 Language filters also use the tag system and introduce some much-longed-for agility in the content and delivery process. Translated articles only need to have their tag changed from the original to the new language to travel across the globe and reach employees who wouldn't read them otherwise.
BindTuning, a longtime DevScope partner, provided a theme that matched Sogrape's identity, allowing our Portals & Collaboration team to deploy WINet in record time and featuring its most wanted areas and functionalities, and thanks to the tag system's flexibility new areas can be introduced in mere days.
Finding the right people for the right job
Because all employee profiles on WINet contain not only their department and function but also areas of interest, Sogrape wants to take these preferences into account and group people with similar interests and competencies, ensuring the allocation of the best human resources to each new project. Thanks to SharePoint Online's provisioning techniques, website templates are easy to deploy for each collaborative context. New content from these collaborative contexts is displayed to users when they log in WINet, making sure they keep up to date with the latest news about the work they've been doing with their colleagues.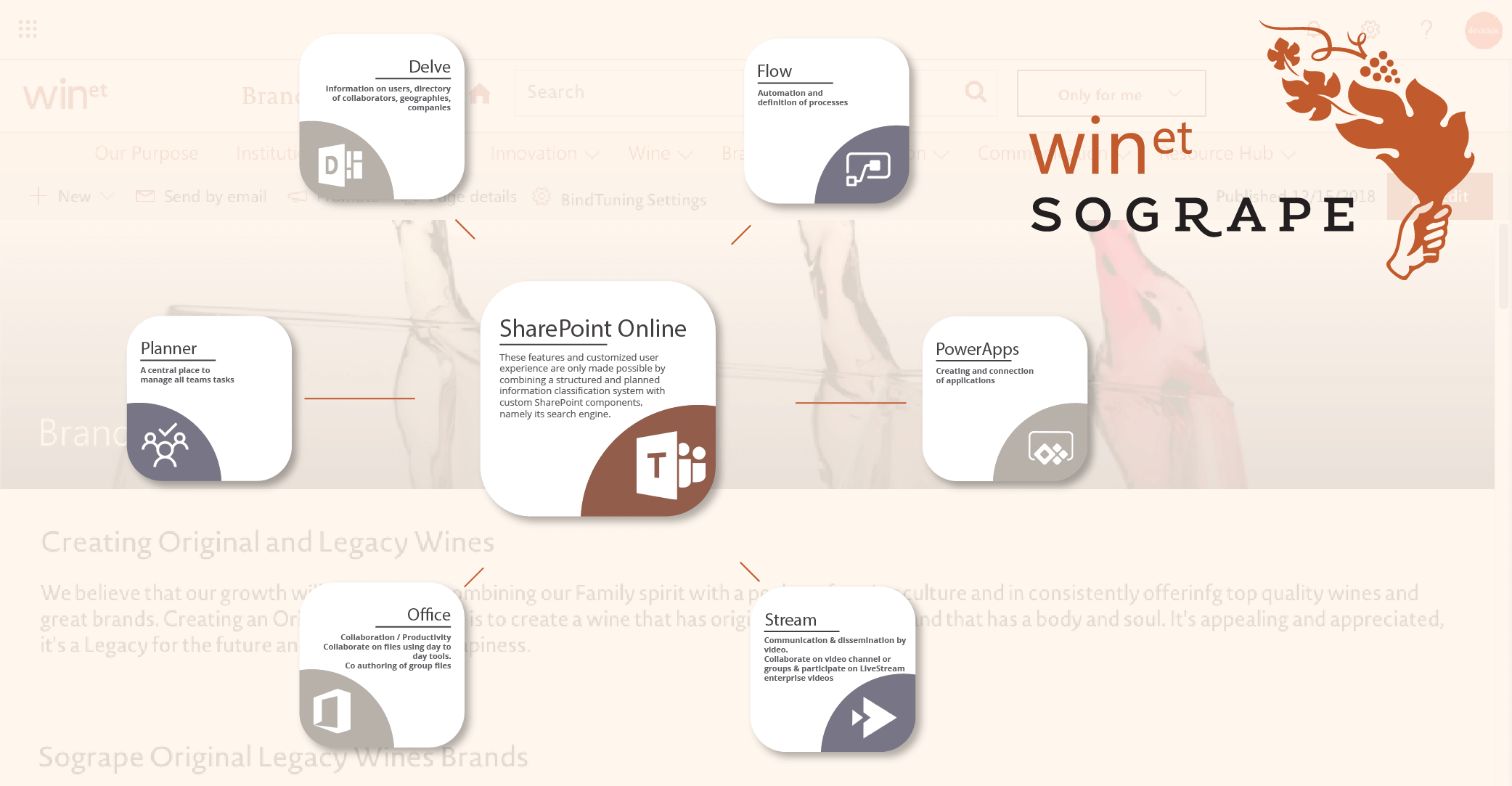 To make sure Sogrape took advantage of as many Office 365 services as possible, our team introduced Microsoft Stream as a way of sharing and publishing videos on WINet. All communications and file sharing between DevScope and Sogrape also took place exclusively on Microsoft Teams. Not a single email was sent during the entire project.
WINet launched in December 2018, six months after the project started.
Sogrape didn't make any efforts to impose WINet internally, but adoption is picking up around the world and becoming part of everyone's daily life. 6 months after its launch, WINet's adoption rate surpassed 50%, with high engagement rates all over the world.
"Employees overseas are happy to be part of something that despite having been developed in Portugal, has a global reach. They feel like part of the family. Our next step is to try and make each market create its local content."
– Joana Pais, Corporate Communication Manager, Sogrape
WINet was designed to unite the Sogrape family spread around the world, and it succeeded in doing so. Regardless of where the office or vineyard they work on is, each collaborator at Sogrape is now connected to more than 2.000 of their colleagues, and the opportunities to share their experience and collaborate are endless.
Work on WINet will continue for the near future, with an emphasis on further employing Microsoft PowerApps and Flow to simplify processes.
Developed and delivered WINet – Sogrape's new intranet portal – in just six months.
Developed a tailored multi-language user-centered intranet experience with dynamic content.
Developed a set of features and tools that enrich WINet by simplifying processes and providing users the tools to make them more productive.
Integrated several Office 365 services with SharePoint Online, creating a modern workplace and connecting over 1,000 Sogrape employees around the world.
Do you want to learn more about DevScope's solutions? Contact us.
Are you a DevScope client and would like to have your case study featured here? Get in touch