Client

Logoplaste

Role

Portals & Collaboration

Year

2022
Logoplaste is a global value-added service provider and producer of rigid plastic packaging for well-known fast moving consumer goods companies in the food and beverage, cosmetics, personal care and household industries. Founded in 1976, the company is the pioneer in the wall to wall, embedded manufacturing model, significantly reducing CO2 emissions by eliminating transportation of empty bottles and secondary packaging, improving the overall environmental impact across the entire supply chain. Logoplaste currently manages 63 plants in 17 countries.
Logoplaste had an intranet portal built on the classic SharePoint experience, out of the box, not appealing and not engaging, rarely used by employees. However, Logoplaste was looking to turn that around and saw the portal as a strategic channel to improve internal communication, global departments and corporate information. Logoplaste lacked a central info hub where employees could easily access information ranging from site addresses to company policies. As a result, employees had to ask for the information which translates into delayed responses. Also, a new intranet would serve as a single source of truth, with updated files and last version documents.
DevScope implemented a new intranet portal using SharePoint Online that takes full advantage of the Office 365 environment. Among others, the new portal features a digital library with an image bank, a news section and extensive information on each of the company's 60 plus plants across the world. Easy to use, with everything just one click away. A tag system ensures content is dynamic and easy to find. Additionally, each team has its own sub-site with information and areas to which only its members have access to.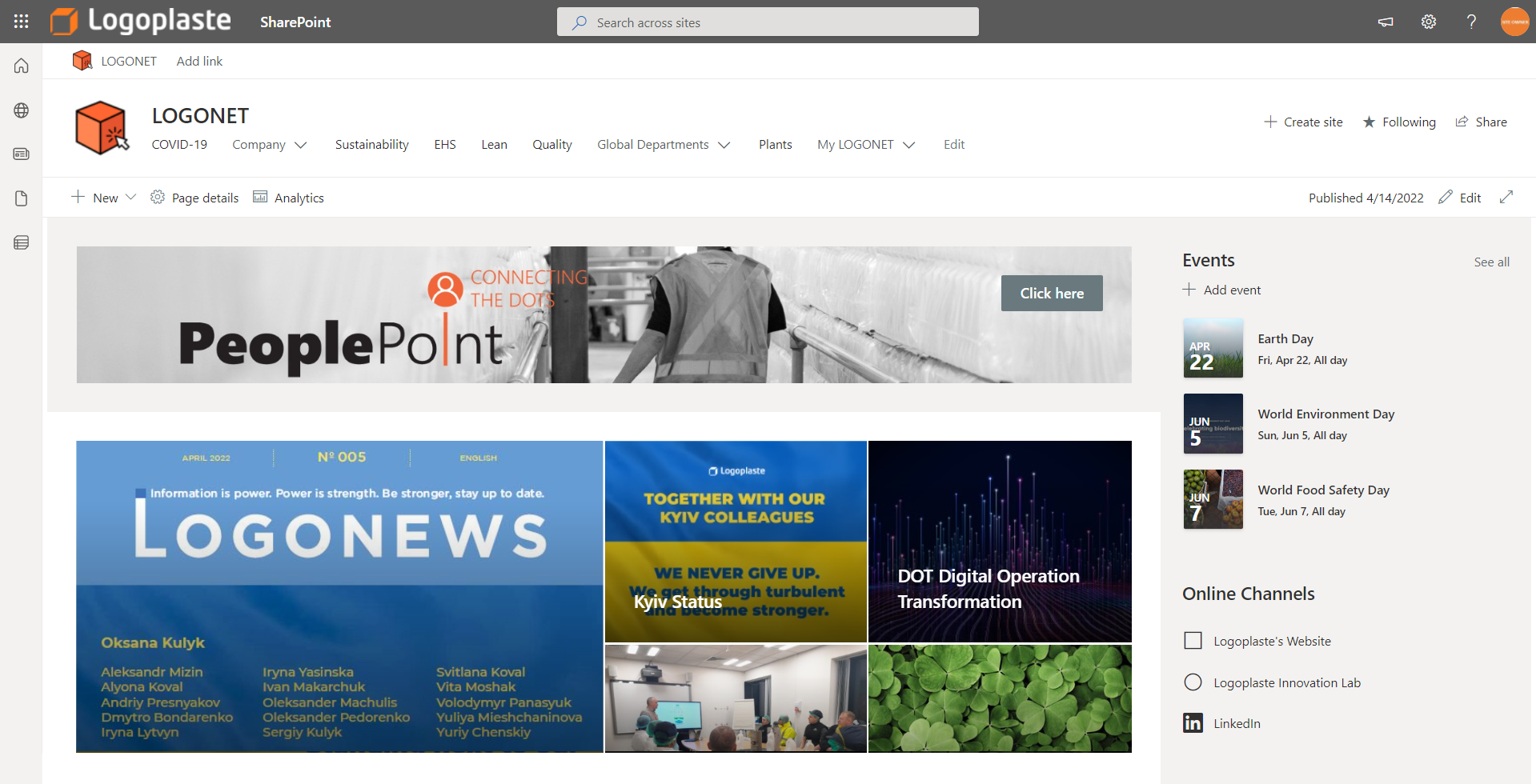 The portal is much more than a generic information hub and makes use of Power Apps integration. One of them is Ask the CEO, a Power App that lets employees pose a question to the CEO, narrowing the distance between the two. From the portal, users can also book a Virtual Guided Tour through a Power App. After scheduling their visit to a Logoplaste plant, a user on the other side puts on HoloLens glasses and gives them a virtual guided tour.
A new training module is planned to launch soon, allowing employees to schedule training sessions.
Logoplaste's Internal Communication was the first department to benefit from the new portal as information requests went down dramatically. Employees embraced the new intranet, and metrics on new content are showing a positive engagement. Global news, displayed on the homepage is highlighted (in a newsletter format native to SharePoint) every two weeks and sent by email to everyone. However, the biggest surprise came from behavior change, as the new intranet has completely reversed the company's dynamics: instead of asking employees for news to publish, news is proactively being sent and asked to share.
"We have people from all over the world sending us their news. This is a true turn in behavior and company engagement, since it used to be the other way around: we had to go after the information."

– Ana Ferreira, Multimedia & Design Specialist at Logoplaste