Client

CJR Group

Role

Modern Workplace

Year

2021
CJR Group is a multinational business group with a footing on public works, namely the construction of roads and infrastructures and another on the renewable energy market. Founded in 1970 in Guimarães, Portugal, CJR Group has completed over 10.000 projects in more than 20 countries on 4 continents and employs over 800 people.
CJR realized they needed an intranet right after the company transitioned to Office 365. Until that point, internal communications were very informal, with Skype and Email serving as the main channels. Although perfectly useable for messaging, these channels weren't able to address some of CJR's most recurring needs, such as requests or access to important documents, which required a VPN connection for security reasons. Despite never having had an intranet before, CJR realized SharePoint Online would be the right solution for the company's needs and got in touch with DevScope due to our track record of delivering projects based on that technology.
"We were looking for a partner. We didn't want a supplier to deliver X, Y, and Z but a partner who could develop the whole solution alongside us. That was DevScope's competitive advantage."

– Ana Silva, Communication Manager at CJR Group
The CJR Group is comprised of two companies with very diverse areas of activity:
CJR S.A. focuses on public works, mainly engineering and construction of roads, water, environmental, and sports infrastructures.
CJR Renewables operates in the renewable energy sector, mainly the transportation and installation of wind turbines, but also solar PV plants.
Despite working under the CJR Group umbrella, the 800+ employees are split into two very different audiences sharing a common culture. That being the case, CJR asked us to develop not one but three intranet portals: a CJR Group portal featuring shared services open to everyone, a second portal for CJR S.A. employees only, and a similar one for CJR Renewables employees. To meet this challenge, the first step was creating different audiences to serve them content accordingly. CJR S.A. and Renewables have their own content, only visible to users with access to them, but the CJR Group intranet clusters everything. Given that CJR is a multinational business, users had to be further segmented according to their preferred language (Portuguese, English, or Spanish). Content is translated by CJR's Communications team and made available on their corresponding intranet.
"Access to documents used to require a VPN connection to ensure safety, but everything is now centralized, and we offer IT support 24/7. SharePoint Online is the best bet for any organization running Office 365."

– António Matos, Systems Administrator at CJR
As mentioned above, answering recurring requests was one of the main reasons that led CJR to implement an intranet, so this was one of the first challenges tackled during this project. Frequent tasks, such as asking for the company's iconography or requests to open a new client or supplier record, are no longer handled via email or Skype message but performed inside the portal by employees themselves. Since these requests are now properly logged, managing and answering them accordingly is now easier than ever.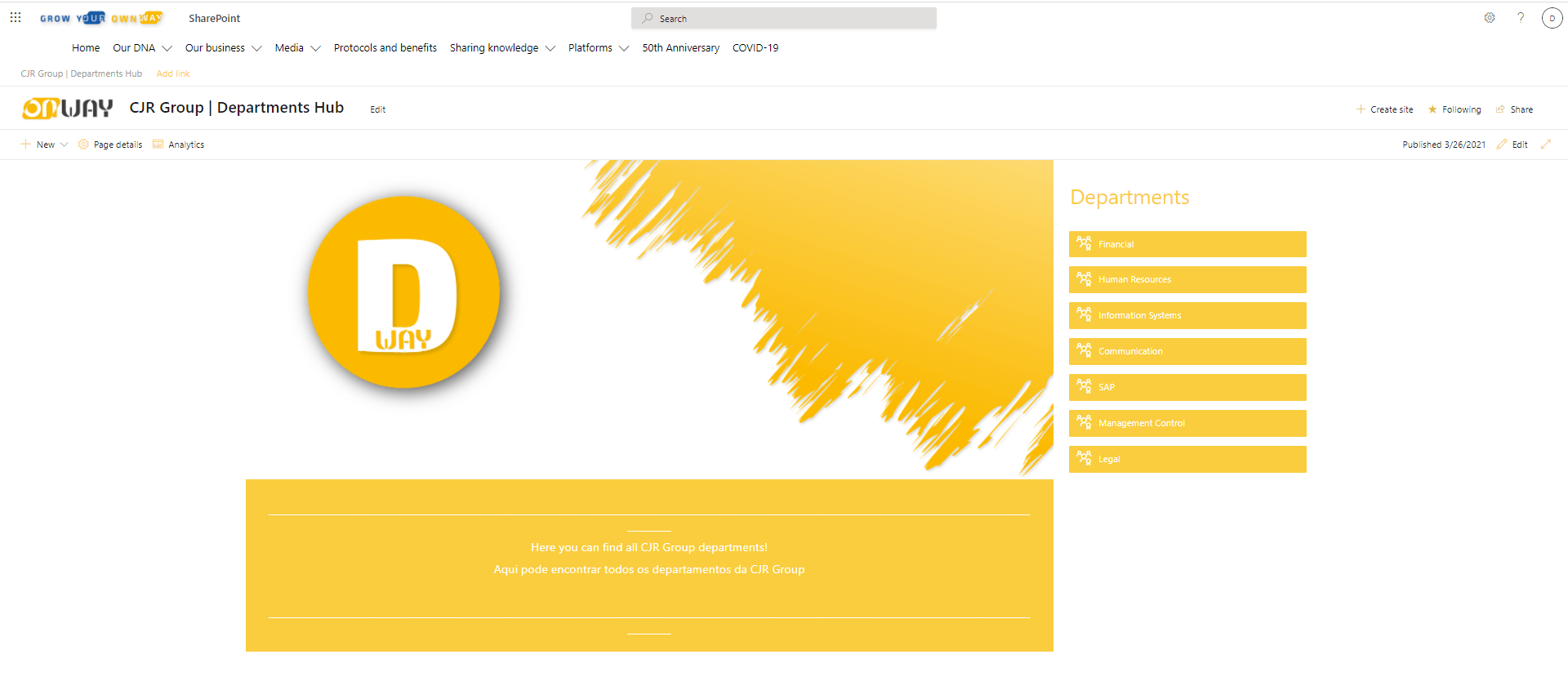 To make collaboration more accessible, our team started by developing a Microsoft Teams provisioning process that established access to all documents on a project according to a user's role. Whenever a project starts, a Microsoft Teams team with a pre-structured set of channels and folders with all documents relevant to it that projected created alongside it. This process replaced a complex folder system with exclusive access permissions that prevented external collaboration.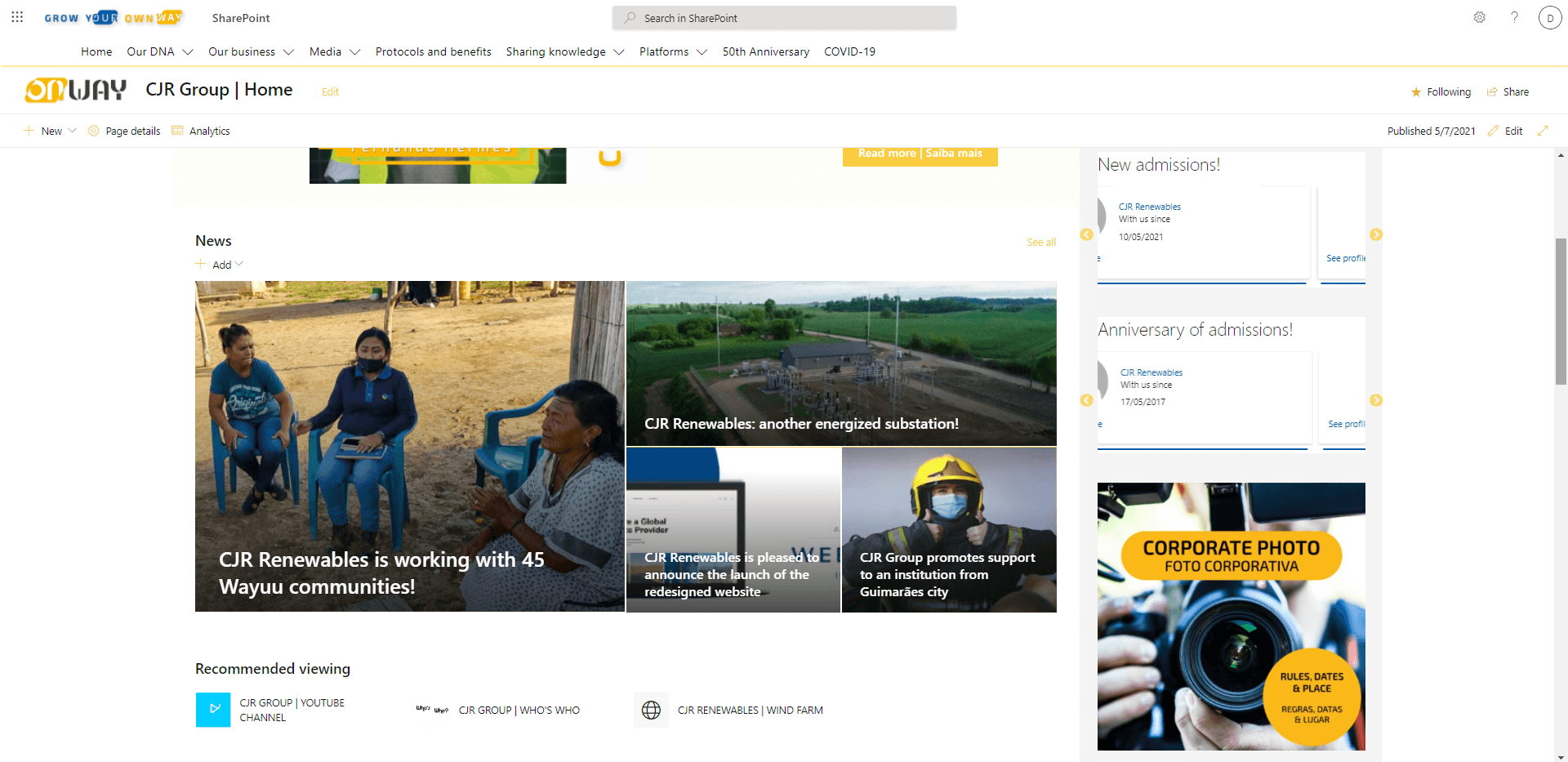 Making important documents available on the portal was also on the agenda, and despite being easy to create a document repository on SharePoint Online, it's often a challenge for users to find what they are after. To resolve this issue, our team implemented a search engine that searches FAQs and documents' metadata. If users aren't able to find what they were looking for, their query is recorded and later analyzed and answered by the IT team.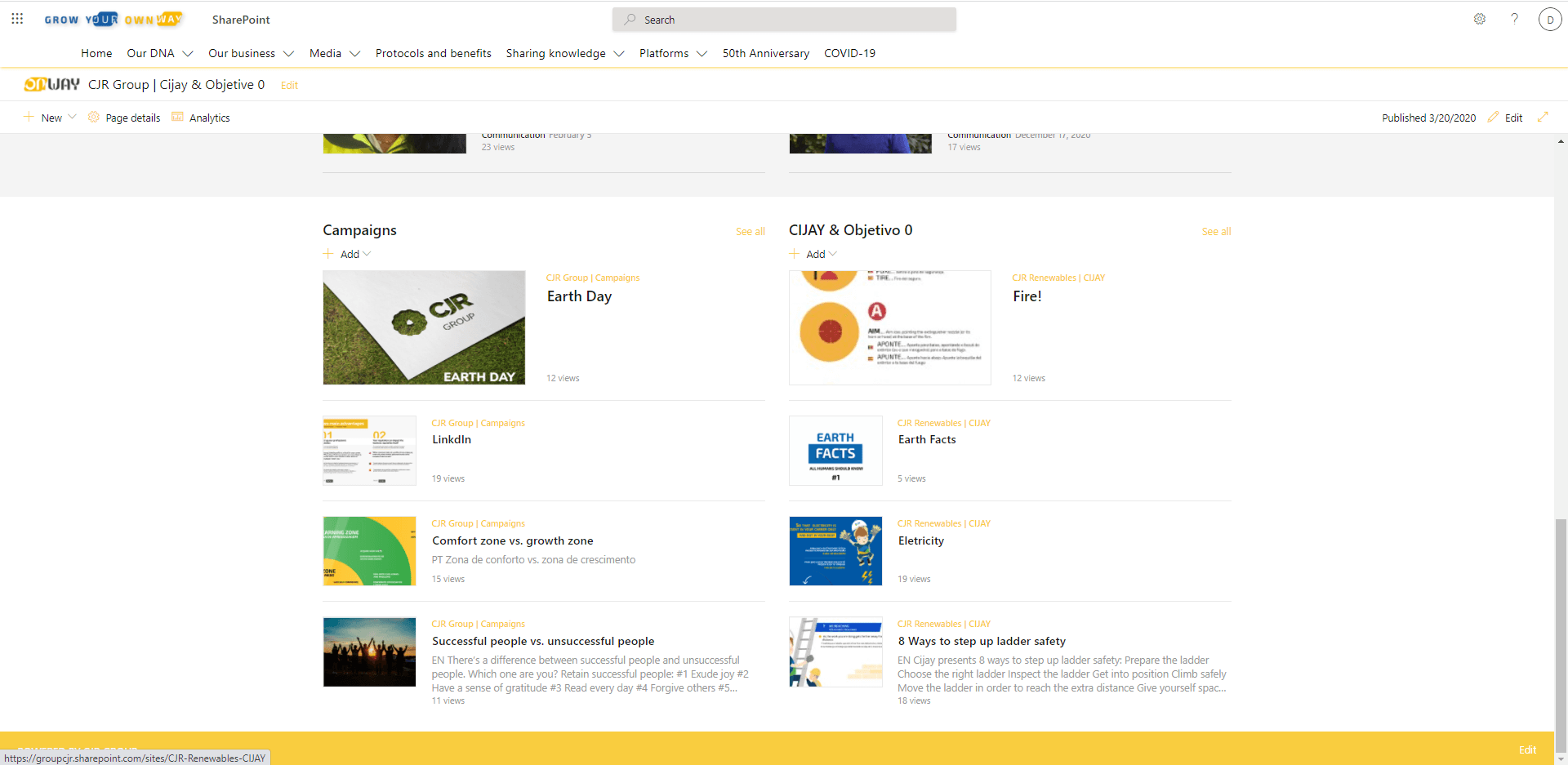 Another important feature that CJR integrated in SharePoint Online was physical mail digitalization. Mail used to be manually distributed or picked up at the company's reception, but the receptionist now scans the mail and makes the content available on the intranet. The mail's recipient is notified and given a link to access it on the "My Mail" area on the intranet, saving them a trip to the reception.
CJR's IT and Communications departments were vital in helping employees learn the ins and outs of the new intranet. Instead of simply giving everyone access to the it, IT and Communications drew a roadmap with DevScope that served as a blueprint for an e-learning program called E-Way (Educational Way) that introduced employees to each feature on the portal. While IT assumed a teaching role, communications focused on promoting the many features of SharePoint Online. The goal was to not overwhelm employees with all the new tools at their disposal while getting them as autonomous as possible when using the new intranet portals.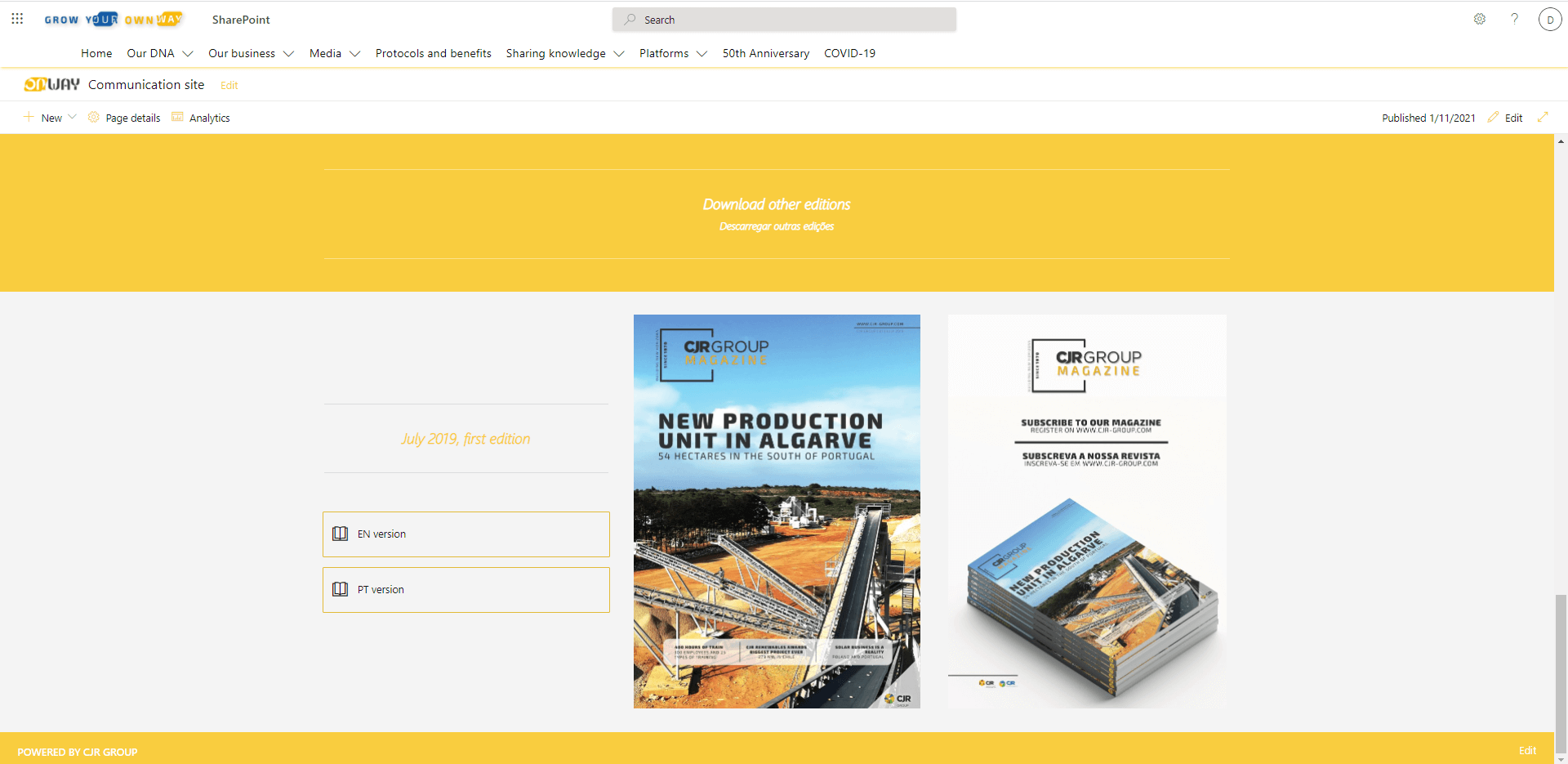 Despite some initial resistance against this new way of working, CJR employees were quickly on board and virtually everyone at the company is now using the new intranet portals. Employees working abroad were one of the main drivers for adoption, as they have more frequent needs for documents and information now available through the intranet.
"There was a lot of technical know-how from DevScope, and a lot of willingness to share that know-how with us. That was essential to this project's success."

– Ana Silva, Communication Manager at CJR Group
Soon, CJR wants to add Yammer, Power BI, Power Apps, and Power Automate to their intranet portals and integrate their upcoming corporate TV channel.
Delivered three intranet portals with dual user segmentation – by company and by language.
Implemented a search engine that analyzes documents' metadata to facilitate the searching process.
Helped CJR's IT and Communications departments develop a roadmap to make CJR employees autonomous when using their new intranet portals.