Client

Amorim

Role

Products

Year

2022
Corticeira Amorim is the largest cork processing industrial group in the world. Founded in 1870 in Vila Nova de Gaia, Portugal, Amorim has been an engine of the local economy for over 150 years, but its impact is felt all over the world. The group operates over 70 companies globally and supplies over 27.000 clients working in sectors as diverse as wine production, construction, or the aeronautical industry.
Amorim wanted to introduce productivity indicators for their factory management without having an employee devoted to keeping constant track of and releasing those indicators. To achieve this goal, Amorim connected their Manufacturing Execution Systems (MES) production data sources to Power BI and used Microsoft's business intelligence tool to transform the data into industrial production KPIs. Their next step was to automatically send these indicators to a network of smart TVs at the lowest cost possible and keep the data up to data through visuals refreshing. Despite refreshing datasets, Power BI can't automatically refresh visuals, so Amorim had to look for an external solution to this problem.
After some online research, Amorim adopted PowerBI Portal, the mass report sharing product by DevScope, to distribute Power BI reports and dashboards to their network of smart TVs connected to the internet via Wi-Fi. PowerBI Portal lets Amorim display Power BI reports and dashboards anywhere thanks to Power BI Embedded, the Microsoft Azure capacity service behind it. Power BI Embedded generates a unique URL for each report added to PowerBI Portal's back-office, and all Amorim needs to do is paste it in a smart TV's browser to have these reports displayed on it.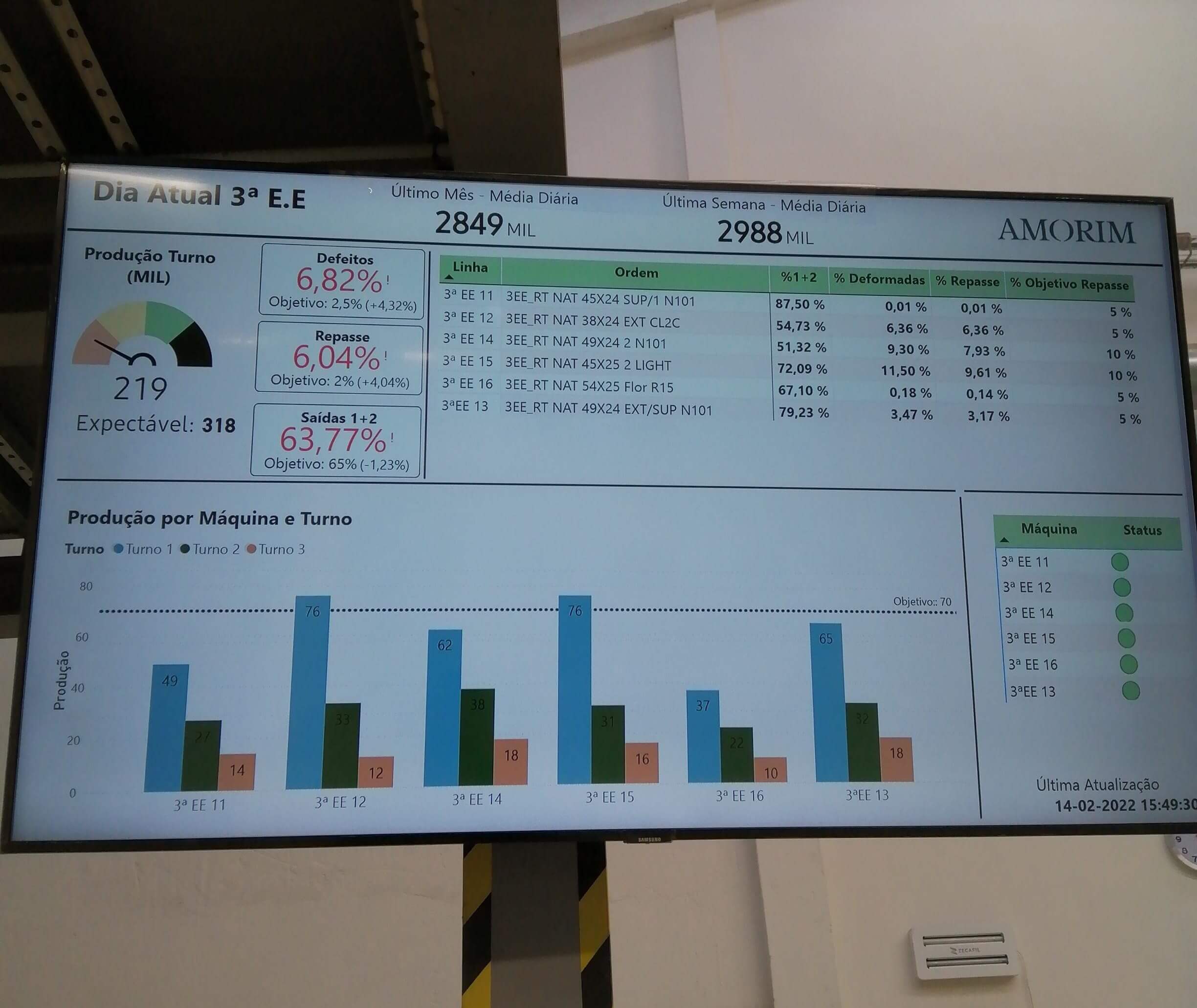 PowerBI Portal also lets Amorim group different reports together as a playlist and broadcast them with refreshed Power BI visuals.
Before PowerBI Portal, Amorim wasn't getting industrial production KPIs to the people who needed to monitor them. Daily production was only analyzed the following day if someone took the initiative to see it, which didn't happen regularly. Now, production indicators are constantly available on smart TVs at the production center, with the latest information displayed to help employees understand what they need to meet daily production goals.
"People can now see what's needed to achieve their goals. It's a way of preventing a problem instead of later discussing what went wrong."

– João Sousa, Digital Transformation Specialist at Amorim
Amorim wasn't looking for mere static dashboards as the company planned from the start to extend KPI distribution to other areas beyond industrial production. The company is still improving its databases and plans to bring production monitoring, process control, quality control, or human resources KPIs to Power BI and use PowerBI Portal to broadcast those indicators.